Reading cat food reviews before going to the pet store can save you a lot of time if you're looking to start your feline on a new recipe.

For the most thorough cat food reviews, you've come to the right place! Each brand is listed by quality and links to its own page to provide more in-depth reviews.
If you want to know more about what the difference is between good and bad ingredients, see this page on the best kitten food choices.
Please note some of the following brands are not recommended, but are still very popular. They are included in the reviews just so you can compare and contrast the different varieties.
Cat Food Reviews by Brand Name
Wellness CORE Kitten Food
A great option if you can't stand smelly wet canned concoctions and going grain-free is still important to you for your kitten.
Wellness uses no allergen fillers, and the first 4 of the top 5 ingredients are all meat-based.
There are some precautions to take before feeding such a high protein diet to your kitten, however. Read the full Wellness Cat Food reviews here.
Blue Cat Food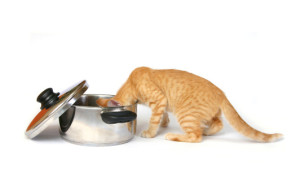 Blue Buffalo Cat Food also has a top-notch grain-free dry variety.
It only loses half a point compared to Wellness because only the first 3 ingredients out of the 5 are meat-based proteins, but still this is an excellent brand.
The Blue Company is dedicated to created pure formulations that are toxin-free and all-natural. Read a Blue Cat Food Review Here.
Purina Kitten Chow
Kitten chow gets a rather generous 2 paws up only for the reason that it has a higher protein content than its peers.
However, there is little else to praise. 3 of the top 5 are allergen-based inappropriate carbohydrates, with corn meal second on the list.
It also contains animal digest and by-product. You can read  Kitten Chow Cat Food Reviews to find out why to avoid these types of low-end foods if at all possible.
Hills Science Diet Cat Food
You may be surprised that Science Diet is rated even more poorly than Kitten Chow for a few reasons: First, the main ingredient is by-product meal (with corn, gluten, and rice right behind it).
Second, it's priced so high for what it is, you could afford a much higher quality.
Third, it's a personal pet peeve that veterinarians who prescribe it have either no knowledge of feline nutritional requirements, or the "kickbacks" from the Science Diet Company overpower their consciences.
Either way, it's a shame that even the formulations meant to treat certain feline afflictions (like feline diabetes) are even worse–rice and corn are the first 2 ingredients! Click Here to read the full Science Diet review.
Cat Food Reviews by Type
Best Natural Cat Food This article covers brands such as Evo, California Natural, Innova, and Natural Balance, plus tips on preparing or buying frozen raw cat food diets.
Best Canned Variety Reviews Wet cat food in general is better for your kitten's nutrition. Find out why, plus read the best canned cat food reviews. This article also includes a list of what to avoid when shopping for a wet food.
High Protein Cat Food Reviews The best high protein cat foods are naturally low in carbs, but some considerations are needed before switching to such a diet. Read more to find out how a large amount of protein affects your cat's health.
Have you tried any of these foods for your kitten? What is your opinion? Let us know in the comments below.