Everyone has some "trouble areas" when raising kittens…what are yours?
Does Your New Kitten…
…Have Litter Box Accidents?
…Claw Your Furniture?
…Have Conflicts With Your Other Pets?
…Bite or Claw You?
…Seem Sick or Unhealthy?
If you answered "yes" to any of the above, then you need a solution to raising kittens so your little one can grow up healthy, happy, and in harmony with your home and family.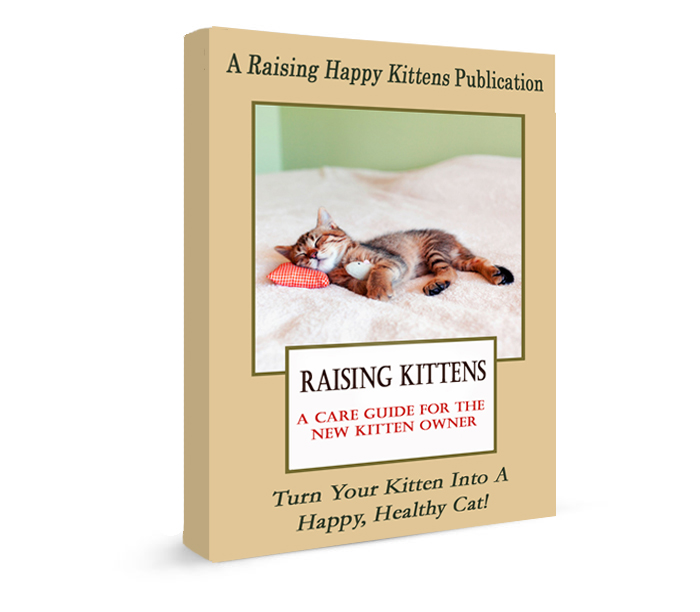 This website has all the information you need to get started on raising kittens, but what if you need more in-depth answers to your kitten questions, without spending hours researching online?
If this is you, then we have a solution that will help ensure you are raising kittens the right way, from the early weeks up until adulthood (and beyond!)
A Care Guide for the New Kitten Owner
If you're a new kitten owner, thinking about getting a kitten, or unexpectedly adopted the little Fluff Ball you found under your back porch, you could probably use some help raising kittens…
Need advice on kitten-proofing your home?
Want to know how to prevent common kitten illnesses and injuries?
What about help with selecting the best, healthiest kitten food for your budget?
If you feel overwhelmed, don't worry! This eBook will help you each step of the way.
Why Raising Kittens is THE Resource for New Kitten Owners
There is so much to know and learn about raising kittens. Not just about feeding and training, but preparing for certain kitten milestones as well.
A kitten grows up so quickly, and it's easy to miss something or make a mistake if you don't know what to expect.
Raising Kittens: A Care Guide for the New Kitten Owner is a complete, step-by-step guide that covers every important aspect of raising a kitten.
This book contains brand-new previously unpublished information and a gathering of many key articles from this website arranged in an easy-to-access format to help you every step of the way.
Because your kitten's well-being is important, you don't want to waste time…
…Getting the information you need QUICKLY when you need it is important.
This instant download is perfect because the information will be right at your fingertips–you can even print out a copy so you have a hard-copy available too!
What's Inside of Raising Kittens?
This eBook has over 100 pages packed full of comprehensive information and advice covering everything about raising kittens from selecting a kitten, feeding, training, preventative medicine, bonding, must-have supplies, home care and grooming, and much more!
We are certain you will benefit from this eBook or your money back!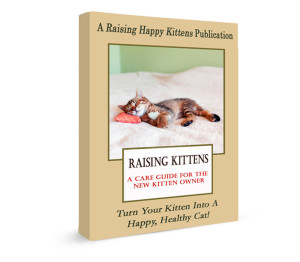 Bonus Offer!
To help you get the most out of your investment, we are also including The Litter Box Training Action Guide for free with your purchase!
Here's a Closer Look at What You'll Find Inside of Raising Kittens…
Chapter 1-Choosing a Kitten
Do you want a purebred or "moggie?" Boy or girl? How old should your new kitten be when you bring him home? Learn how to check if the kitten is healthy before you adopt, and find out the best (and worst!) places to buy or adopt your new furry family member.
Chapter 2-Supplies
You could spend hundreds of dollars on new kitten supplies when raising kittens, but do you really need to? Find out what items are must-haves, what are nice-to-haves, and what you and your kitten can truly do without.
Chapter 3-Making Your Home Safe
Find out how to make your home environment safe for a very curious kitten. Plus, learn how to decide if your kitten should have outdoor access or be an indoor-only cat. Also get tips on introducing your new kitten to other pets.
Chapter 4-Growth and Development
Learn what to expect at each growth stage and how to prepare for (and adapt to!) your kitten's fast and furious growth spurts and developmental milestones.
Chapter 5-Feeding and Nutrition
What makes a kitten food healthy, and what doesn't? Do you know what most cat foods are primarily made of? Learn how to make the best kitten food decision based on nutritional content as well as your budget. This chapter also gives tips on preparing homemade and raw cat food (if you're into that sort of thing!)
Chapter 6-Health and Veterinary Care
Learn the signs of a healthy kitten, as well as how to choose the right veterinarian for your new companion. Learn about the common vaccination decisions you will have to make, as well as common illnesses kittens are susceptible to. Also contains advice on treating vomiting and diarrhea, and a special article addressing the controversy of declawing.
Chapter 7-Home Health and Emergency Care
How to care for your kitten after surgery, including spaying or neutering. Also provides tips on how to successfully give your kitten medicine, which can be a headache! Also learn about toxic houseplants and how to give life-saving treatment to a kitten following any kind of medical emergency.
Chapter 8-Pet Insurance
Find out if pet insurance right for you and your kitten. Learn how to select a coverage plan and what to look for in a policy.
Chapter 9-Behavior and Training
The foundation of training comes from understanding your kitten. This chapter starts with helping you learn your kitten's vocal cues and body language, and then provides behavioral training techniques. Also discusses the psychology of kitten play and provides tips on how you can use play to further bond with your new kitten.
Chapter 10-Grooming
You will learn everything you need to know about kitten hygiene including bathing, brushing, nail trims, ear cleaning, and even dental care and teeth brushing.
Chapter 11-Orphans, Strays, and Other Unplanned Adoptions
If you just rescued an orphaned or abandoned kitten, you need some answers fast! Learn how to provide urgent care when raising kittens that are tiny, how to give them commercial formula, and how to ensure their needs are met to ensure their survival.
BONUS: Litter Box Training Action Guide
Does your new kitten still need to learn how to use the litter box, or did she suddenly stop using it? Here is an actionable guide that will help you determine what the cause(s) could be, and what you can do to turn it around quickly and avoid any more mess!
Solid 30-Day Money-Back Guarantee
We are so confident that Raising Kittens: A Care Guide for the New Kitten Owner eBook will help you raise a more healthy, happy, well-adjusted kitten that we are offering a complete, no-questions-asked money back guarantee.
If at any time in the next 30 days you don't feel 100% satisfied with your purchase, you can claim a full refund.
"[My Kitten] Bleu has a long history with Raising Happy Kittens, I'm happy to say every time I had a question or problem (like biting)  this was scary for me, but with your help and support Bleu and I really understand each other, like body language, food issues, clawing furniture. [This Site] has been a God send for me, thank you Raising Happy Kittens for all you have done for Bleu and I!"
~Sheryl Ann
Ready to Begin Raising Kittens with Confidence?
You will get your eBook immediately with no shipping costs and no waiting. After ordering you will  receive an email with the download link.
If you have any questions or problems with your download please contact us at info@raisinghappykittens.com and we will help you.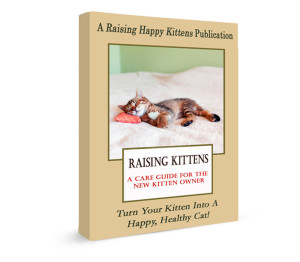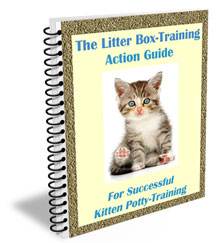 Immediate Access! Only $12.97 for Both eBooks!