What is Fortiflora? Its Purina's brand of probiotic therapy for pets which contains live active cultures in a digestible protein base.

So what can it do for your cat?
Purina and other brands of probiotics promote a strong immune system.
Fortiflora helps with digestive problems like changes in diet, firming up soft stool in kittens, soothing acute enteritis and reducing  diarrhea. 
Specifically, Fortiflora can eliminate the diarrhea associated with a microflora imbalance or medication side-effects.
Fortiflora is also used when dealing with stressful situations like being boarded, going to the vet's or changing a cat's home environment.
It can also help if you want to transition your cat or kitten onto a new food, or especially when transitioning to a raw food diet for cats.
Cats love the flavor and when sprinkled on food, they will take to the change more willingly—it sort of smells like stinky cheese! 
There are testimonials that have claimed that elderly cats, those with kidney problems, and other sick kitties who will barely even eat to stay alive will gobble this stuff up too!
Forti flora probiotic also helps with skin yeast issues (especially if you have a breed known for sensitive skin, like Sphynx) and is a much more affordable solution then expensive veterinarian-prescribed prescription diets.
It promotes healthy, silky fur, and can even reduce litter-box odors over time.
Overall Assessment of Fortiflora
Overall, Fortiflora is an affordable solution to digestive problems, especially if you're dealing with some mild diarrhea issues.
Fortiflora is effective, easy to administer (because of the taste) and there are no side effects when used as directed.
It also contains lots of vitamins and minerals that are necessary in a cat's diet like taurine.
If you have read any of these kitten food recommendations, you will know that we advise against feeding this to cats and only the poorest-quality foods contain it.
(Animal digest is the stomach contents of the meat—beef, chicken, etc.)
However, given that Fortiflora is just a supplement given in tiny amounts, this amount of digest is negligible.
Complete Ingredient List
Fortiflora contains animal digest, enterococcus, L-ascorbyl-2, polyphosphate, vitamins C and E, taurine, beta carotene, manganese proteinate, ferrous sulfate, copper proteinate, calcium iodate, sodium selenite.
There are other brands (Nusentia Probiotics are one) that are exclusively vegetarian, if you want to bypass the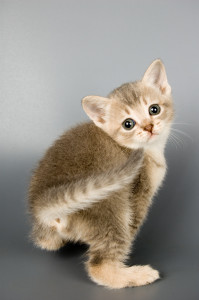 animal digest altogether.
This brand also contains no soy, wheat, dairy, eggs, fillers or flavorings. However, it also loses the "flavor factor" if the intent is to get your cat to eat his food.
Fortiflora Cautions and Reminders
It can be possible to give too much Fortiflora to your cat—it could have the opposite effect of over-hardening her
stool.
It is always a good idea to consult your vet before administering Fortiflora or any other nutritional supplement or probiotic.
If you have a kitten with severe or chronic diarrhea (or you don't know if it's severe or not), it is extremely important to get her to the vet, as they can dehydrate very quickly.
Your feline may also have diarrhea due to a virus, an infection or parasite infestation, so definitely get your vet's assessment first if you are not sure what kind of issue you are dealing with!
We have found Amazon.com to consistently offer the lowest prices on Fortiflora. We recommend you read through some of the reviews on the site to get more first-hand testimonials on how well Fortiflora has worked for other pet owners.