What would happen if your new kitten got sick?

A quality low cost pet insurance policy can help you get through such circumstances without hurting your budget.
It's easy not to think about the fact that your kitten will get older and succumb to health problems at some point in her lifetime, especially when she is just so fun and vigorous right now!
Plus, you might think that pet insurance is either a scam, too difficult to figure out, or just too expensive to pay for each and every month.
Rather than being a financial burden, pet health insurance can actually save you a lot of money on treatment during your kitten's lifetime.
If you do your homework, you will find a low-cost pet insurance plan that you can afford every month and that you know will cover emergencies.
How a Low Cost Pet Insurance Policy Works
With the cost of living always on the rise, it becomes difficult for many pet owners to take care of their pets, especially when they fall ill.
In fact, it may cost anywhere from hundreds to in the thousands of dollars to make them healthy again.
The concept of low cost pet insurance coverage for household pets has gained tremendously in popularity in recent years.
It is in many ways similar to a human health policy, in that claims can be made only if your kitten is sick or injured and is taken care of by a pre-approved vet (but oftentimes you can choose your own vet ahead of time.)
You will pay a monthly premium on your policy, will have to meet a certain deductible, and then everything above that deductible gets charged to the insurance company.
This will help you to save on out-of-pocket expenses while visiting a vet since low cost pet insurance, depending on the coverage you choose, will cover these unforeseen illness and emergency services.
Rate vs Ratings for Pet Health Insurance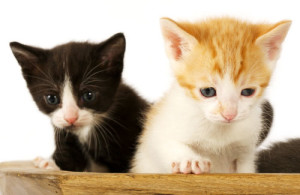 There are many factors involved in choosing a policy, but the dollars involved should not always be the primary factor.
Rest assured, there are plenty of options that will suit your situation and your wallet, you just need to be aware of what to look for!
It may be that you are willing to trade off a more comprehensive wellness plan to only have coverage for emergency services, such as surgeries, etc.
For many pet owners, this is acceptable because it is these "big-ticket" veterinary visits that sink the bank accounts.
Of course, with the competitiveness in the market today among pet insurance companies, it is possible to find low cost pet insurance plan that has a few more bells and whistles.
Note: If you are searching for a low cost pet insurance policy you should always read the fine print.
The pet insurance policy might have some exclusions for a particular breed or a particular health issue.
You may even be denied if you let your kitten or cat go outside, due to there being more inherent dangers.
You can opt for cheaper pet insurance depending on the age as well as the health of your pet.
Lucky for you, your kitten is young and healthy and so will not require frequent check-ups as often as older pets, per some policy guidelines.
But as your kitten grows older, many pet insurance companies' guidelines will require frequent check-ups, which themselves might not be included in your coverage.
This is why "cheaper" is not always better–you may have to pay more out of pocket yearly just for exams than you otherwise would opt to, just to not be denied a claim if illness set in.
This can happen with more expensive plans too, so I will say again:
Always read the fine print!
Of course, being "forced" to get regular checkups for your kitten isn't necessarily a bad thing–your vet may be able to detect the early stages of illness, for example, so except for being a bit more expensive (and a nuisance), frequent checkups won't hurt.
Pet insurance coverage also varies depending on the laws of your particular state or country.
So, if you are planning an out-of-state or international move in the near future, keep this in mind as well.
As mentioned previously, low cost pet insurance can be quite comprehensive as well as affordable if you just do some research.
A recent report has shown that a pet owner has to spend around $5000 for medical expenses during the lifetimes of each of their pets.
This is not a small sum for an average working, middle class family, especially if a big chunk of that sum is due to an emergency life-saving surgery.
With a basic, but quality low cost pet insurance plan in place, you can avoid this devastating pitfall.