You want only the best canned cat food that your budget will allow when feeding your kitten or cat.
This means providing her with all the nutrition, vitamins and minerals that she needs to stay healthy and have a long life.
Once your kitten is a year old, it will be time to start her on a healthy long-term adult canned cat food.
Best Canned Cat Food Options
The following are the best canned cat food options because they are either completely or largely grain-free, which makes them  the best choices for your kitten's dietary needs.
Merrick Cat Food
Considered as a gourmet meal, Merrick canned cat food  contains only the best wholesome ingredients while offering a variety of different flavors for your kitty including Grammy's Pot Pie, Surf & Turf, and Southern Delight.
Not all of Merrick's canned formulas are grain-free however, and do avoid any foods that list fish as the main protein source. Fish is not a good protein for cats in large doses, so avoid any of these formulas.
Their Cowboy Cookout recipe on the other hand is the best and most balanced of the recipes, as its carb/fat/protein composition mimics prey that cats would eat in the wild. This is definitely a contender for the best canned cat food.
Nature's Logic
Nature's Logic is marketed as an organic canned cat food, and is unique in that they use no artificial vitamins, amino acids, or minerals.
This is a bit controversial–many of Nature's Logic's competitors claim that this lack creates a nutritional void in Nature's Logic best canned cat food recipes.
You can always err on the side of caution and provide your cat with an additional supplement. Make sure you talk to your vet to make sure you are not providing too much of any one vitamin, however.
Nature's Logic canned food is also free of corn, wheat, soy, rice and any chemical trace nutrients.
It is not grain-free, however, as they use millet in their formulas. Although this is not a common cat food allergy, it is not a low carbohydrate cat food for this reason.
You will find Nature's Logic canned food is available in several different flavors including rabbit, duck and chicken.
Wysong Brand Canned Cat Food
Wysong offers several canned food varieties that include grains, but their grain-free cat food is a bit unique, in that it is not a cat food formula, per se, but a canned meat. It is meant to be used as a "gravy" on their complete balanced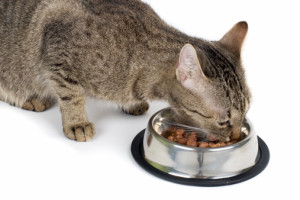 dry formulas.
It is referred to as "Au Jus" and is only meat. It is not balanced as a complete diet because it is devoid of calcium (all meat, no bones) so their "Call of the Wild" supplement is necessary if this is to be provided as your cat's only food.
This brand is relatively expensive, but Wysong's high-quality meat source makes it a good option as the best canned cat food.
Wellness Canned Cat Food
Wellness Cat Food Company uses no animal by-products or allergens in their foods. Their first ingredient is always a quality meat (again, avoid the seafoods) and compared to some other high-quality brands, this is one of the best canned cat food choices you can get for your money.
While some of the canned cat foods offered by Wellness are not grain-free, including Salmon & Trout, Chicken & Lobster and Sardine Shrimp & Crab, there are plenty that are grain-free such as Chicken & Beef, Chicken, and Turkey.
Similar to the millet used in Nature's Logic, Wellness uses brown rice in their formulations as the inert carbohydrate.
Innova Evo Cat Food
Innova Evo canned cat food is exceptional when it comes to your cat's health. This best canned cat food option is grain-free, is a low-carbohydrate canned cat food and is full of protein.
The downsides are that raw, whole fruits and veggies are used in their formulas, which aren't nutritionally necessary however may provide a bit of texture your kitty might like.
It is also worthy to note that it is high in phosphorous, so be aware of this if your cat has any renal or urinary tract issues. This would not be the best canned cat food for you, in this situation.
Canned Cat Foods to Avoid
If any of the above are unsuitable for your particular situation, the best thing you can do is at least know what to look for in the labels.
There are certain ingredients you should stay away from whenever possible. Here are some of the worst offenders:
Any "by-product."
BHT and BHA – both of these have been known to cause kidney and liver damage and dysfunction
Wheat gluten, Corn, Soy, Wheat – Are all unnecessary for a cat's nutrition at the least, and at the worst can lead to allergies.
Ethoxyquin–You will find these in many generic store brands, and even some of the most highly-marketed like Friskies, Meow Mix, Purina, and 9 Lives.
Watch Out for Marketing Tricks!
All-Natural – You can say this about anything
Premium – Same as above
Indoor Cat Formula – No scientific basis whatsoever
Anything "Breed Specific" – Marketing hype
Veterinarian Recommended – Again, does not need a consensus of veterinarians in order to make this claim.
Prescription Diet – Misleading and usually without medical basis
Hopefully these best canned cat food suggestions will help you make a choice as to what food you will start your grown-up kitten on.
If the costs of some of the higher-end brands are a bit unpalatable, then at least you can know what ingredients to avoid in the less costly alternatives in order to make an informed decision.
What do you think is the best canned cat food? Let us know in the comments below!