The Blue Buffalo cat food and dog food company is family-owned and was formed in Wilton, Connecticut by the Bishop family.

The company was created after one of their dogs, an Airedale terrier named "Blue,"  was diagnosed with cancer.
This prompted the Bishops to make pet food with only natural ingredients free of harmful cancer-causing environmental toxins.
Cancer is the leading cause of death of cats and dogs, and pets are becoming diagnosed younger and younger.
Today, it is still the mission of the Blue Buffalo company to protect pets from cancer-causing food toxins by maintaining quality formulas.
According to the Blue Buffalo website, they are so committed to pets that they have more cats and dogs running around their office than employees!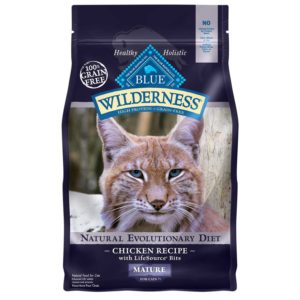 Blue Buffalo Cat Food Ratings
Cost: $$$
The price of Blue Buffalo cat food is a bit high, but it is dense with quality animal proteins which are more filling. As long as you don't over-feed your cat, the food will last long enough to make it worth the price.
Overall Health 1 2 3 4 5 6 7 8 9 10
Consumer Rating 1 2 3 4 5 6 7 8 9 10
Special Needs Formulas: Cats with diabetes and weight issues do particularly well on Blue Buffalo cat food.
Ingredients
There are quite a few wet and dry varieties of Blue Buffalo cat and kitten foods, so the ingredients vary.
However, all use quality proteins in healthy amounts, although some varieties contain grains. The following main ingredients list is for Blue Buffalo Wilderness Dry Cat Food, which is grain-free:
First Five Ingredients  Deboned duck, chicken meal, turkey meal, potato starch, fish meal
Other Ingredients Chicken fat (preserved with mixed tocopherols), peas, potatoes, flaxseed, natural chicken flavor, alfalfa meal, whole carrots and sweet potatoes, cranberries, blueberries, barley grass, dried parsley, dried kelp.
Contains Animal Digest? NO
Contains By-Products? NO
Hypoallergenic? Blue Wilderness, Blue Freedom, and Blue Basics Cat Food are all hypoallergenic varieties.
Crude Fat 14%
Crude Protein 38%
Crude Fiber 3%
Blue Buffalo Cat Food in a Nutshell
Blue Buffalo cat food contains natural ingredients, offers hypoallergenic varieties, and it is carried in most major pet stores.
Cat owners claim that their cats love the flavor of both the food and the healthy cat treats.
Four of the first five ingredients are meat-based proteins.
It also contains antioxidants that are "cold-formed" to retain nutrients that would otherwise be lost during the cooking process.
Overall, Blue Buffalo Cat Food is an excellent choice, offering high-quality formulations. You will find Blue cat food to have some of the best cat food reviews compared to other brands.
Possible Downsides
The high amounts of protein (especially in the grain-free dry cat food varieties) can cause kidney stones in certain cats. Click here to find out more about high protein diets in cats.
A veterinary consultation is recommended if you have concerns about your cat's vulnerability to kidney issues.
Where to Purchase Blue Buffalo
You can find many Blue cat food varieties in your local pet store. However, if you live in a remote area or just prefer to shop online, Amazon consistently has very competitive prices on all Blue Buffalo lines.
The following are some of the more popular formulas: