Hill's Science Diet Kitten Food can trace it's history to the late 1960's, but the original Hill's Pet Nutrition began in 1939 by Dr. Mark L. Morris Sr., a vet who believed that pet ailments could be avoided by proper nutrition.

Dr. Morris' founding of the Hill's brand was due to him wanting to save the life of his vision-impaired friend's seeing-eye dog who was suffering from kidney disease.
Due to his success with this line, The Hill's Science Diet brand of pet foods was created in 1968 by himself and his son, Dr. Mark Morris Jr., to create more condition-specific and life-stage appropriate varieties of food for cats and dogs.
Variety: Hill's Science Diet Healthy Development Original Dry Kitten Food
Cost 1 2 3 4 5
Overall Health 1 2 3 4 5 6 7 8 9 10
Consumer Rating 1 2 3 4 5 6 7 8 9 10
Addresses Special Needs:
Gentle Digestion, Promotes Healthy Weight
First Five Ingredients:

Chicken by-Product meal
Whole Grain Corn
Animal Fat
Corn Gluten Meal
Brewers Rice

Other Ingredients:
Chicken Liver Flavor, fish oil,
flaxseed, dried egg product
| | |
| --- | --- |
| Carb Fillers Used: | Corn, Gluten, Rice |
| Contains Animal Digest: | NO |
| Contains By-Products: | YES |
| Hypoallergenic: | NO |
| | | |
| --- | --- | --- |
| Crude Fat%: 21 | Crude Protein%: 37 | Carbohydrates%: 27 |
PROS

High availability
No animal digest
Protein is within
average limits

CONS

High amount of corn
Animal by-product is 1st ingredient
Overpriced for low value
Low fiber
Science Diet Kitten Food Overall Assessment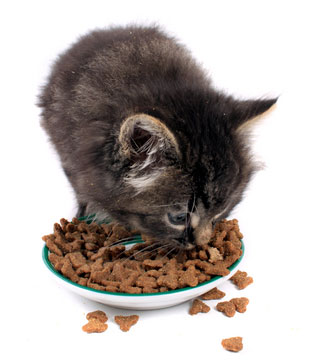 It is unfortunate that veterinarians push this food onto their clients.
The quality of Science Diet kitten food may have been higher in the early years of the company, but this is one of the worst values for the relatively significant cost of the food.
It doesn't take a genius to figure out that veterinarians get a commission for selling Science Diet kitten food and other pet formulas, considering it is carried by virtually every clinic across the country.
By-Product Content of Science Diet Kitten Food
You can see in the assessment above that Science Diet kitten food has by-product meal as the first ingredient.
This is the only meat source besides "animal" fat in the first five ingredients–if you can call the skin and sludge scraped off the slaughterhouse floors meat, that is.
Science Diet Kitten Food Carbohydrate Content
The second and fourth ingredients in Science Diet are corn, which is completely species inappropriate.
Cats and kittens are not meant to be eating such large amounts of corn (or other plant and grain-based carbohydrates,) and this leads to health issues and allergies later in their life.
The fact that there is no quality meat source, the high amounts of inappropriate carbs, the relatively high price for glorified kitten chow, and the frustration that this is being pushed by veterinarians as wholesome goodness gives Science Diet kitten food a big thumbs down.
Hill's Science Diet kitten food in the can is only slightly better–their Healthy Development Liver & Chicken Entrée Canned Kitten Food does contain liver and chicken as the 3rd and 4th ingredients, but egg product and water are the first two.
If you are willing to pay this price, you can do much better than Science Diet kitten food–Wellness Kitten Food is a bit pricier, but your kitten will eat less because it's loaded with real feline nutrition.
You can also read our article on the best kitten food choices if you are still wondering what to feed your kitten.