When it comes to choosing names for kittens, the choices come down to personality type.

No, we're not talking about the kittens' personalities, we mean the humans that are picking the names for them!
If "Fluffy" and "Smokey" just aren't your style, then maybe you need something more unique!
If you're the life of the party or the class clown, it might make sense for you to look for something more, well, funny!
If you have funny kittens, all the more reason to pick funny kitten names for them.
You're in luck! Here is a compilation of some of the best, funniest names for kittens ever!
Please keep in mind if you want to give your kitten a funny name, it will be his name for life.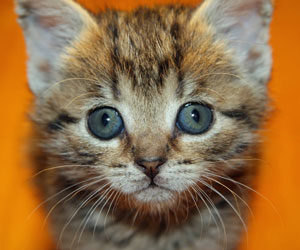 That means, even if you think he doesn't understand the meaning behind it, other humans surely do!
So, if you are thinking of names like, um, "DooDoo Brain," then you will have to explain your choice to friends, family, your mother, and that snarky veterinary receptionist that will be seeing him during his yearly visits.
Some of these names are just cute or silly, but everyone has different tastes. (For the record, our favorites are Fuzzy Butt and Purrito!)
Top Funny Names for Kittens
Agamemnon
Alimony
Baklava
Bisquick
Boink
Booger
Bourbon
Bratwurst
Brewski
Butt Nugget
Butters
Chachi
Cheddar
Chewbacca
Chewy
Chiclet
Chowder
Chunk
Cletis
Columbo
Confucius
Cool Beans
Cootie
Crackhead
Crumpet
Cuchi
Darth Vader
Darwin
Demitrius
Dingle
Dinky
Doodle
Doofus
Dorito
Dumbledore
Ewok
Fabio
Fajita
Fart Knocker
Fuzzybutt
Gandalf
Houdini
Humphrey
Jalopy
Kamikaze
Lickums
Morpheus
Moses
Neo
Nugget
Purrito
Rufus
Sir Pounce a Lot
Skeeter
SugarButt
Thingamajig
Vanilla Ice
Vernon
White Chocolate
If none of these names for kittens work for you, check out the lists we have for male kitten names and female names for kittens.
Does your kitten have funny name? Share it with us in the comments below!